Fuvahmulah Cricket Academy wins the first domestic senior men's cricket tournament played on the island of Fuvahmulah after a high scoring final against Sierra Lions.
View Full Tournament Results & Statistics
Batting first, Sierra made a very competitive 134 for 9 wickets. Lahiru (27) and Nadeepa (37) made an aggressive start that put the local players of the Academy under pressure from the first over. Upul (25) continued to build on the total and as wickets tumbled towards the end of the innings some tight fielding kept the Lions from reaching the '150' landmark.
The Academy bowlers were rotated and helped by fine keeping from Shauf and Alauddin; two wickets each for Maldives U19 squad members Aazin Rafeeg and Hanoon Hussain.
In reply, the openers for F.C.A. started the run chase in a spritely fashion. However, they were back in the dugout for and 15 & 2 respectively. Next up were Asanka Newan who smashed 56 from 29 balls and 15 year old Shauf Hassan who, reprieved after being bowled first ball off a 'No Ball' went on to score an unbeaten 40 runs from 34 balls.
By this time the damage was done and Hanoon came to the crease with just 1 run required from 5 overs, he hit the winning runs and sent the team into deserved celebrations as Champions.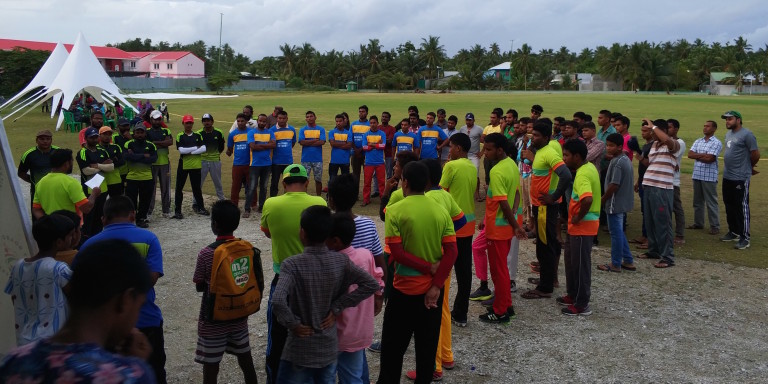 Cricket is relatively new to Fuvahmulah but has had a keen following and interest since 1999 and more recently the Under 25 SAARC T20 competition played in 2011 on the island.
This year has seen the Cricket Board of Maldives invest in people and facilities and the work achieved so far has seen this tournament catch the eyes of many people in Fuvahmulah. This Final Match was watched by many youngsters, parents and new fans of cricket.
The C.B.M. would also like to thank the Schools of Fuvahmulah, Fuvahmulah City Council & GN Volunteers for their support to grow cricket as a major sport in this area of the country.
The tournament was competed by 4 teams playing 10 matches in total over the past 2 months. To maintain momentum of growth a 50 Over One Day Tournament is planned to start in mid-September.
View Final Match Day Photo Album Here
Awards:
Presented by Mr. Bandara of Sierra
Champions – Fuvahmulah Cricket Academy
Runners Up – Sierra Lions
3rd Place – Alauddin Sporting Club
4th Place – Jontu Cricket Club
Outstanding Batsman – Mohamed Shobuz
Outstanding Bowler – Mohamed Alauddin
Outstanding Fielder – Jontu Khan
Outstanding Wicket Keeper – Chatthuranga Pushpakumar
Most Promising Player – Azin Rafeeq
Player of the Tournament – Shauf Hassan
Man of the Final Match – Lahiru Pushpakumar

Flickr Album Gallery Powered By:
Weblizar