The ALIA Investments Maldives Resort Cricket Tournament 2017 held by the Cricket Board of Maldives will take place this week.
The much anticipated annual competition between the staff of many of the top tourist resorts of the Maldives will take place at Ekuveni Cricket Ground on 11th July. The one day event s consisting of qualifying, Semi-finals and a Grand Final.
View the LIVE MATCHES, RESULTS & STATISTICS here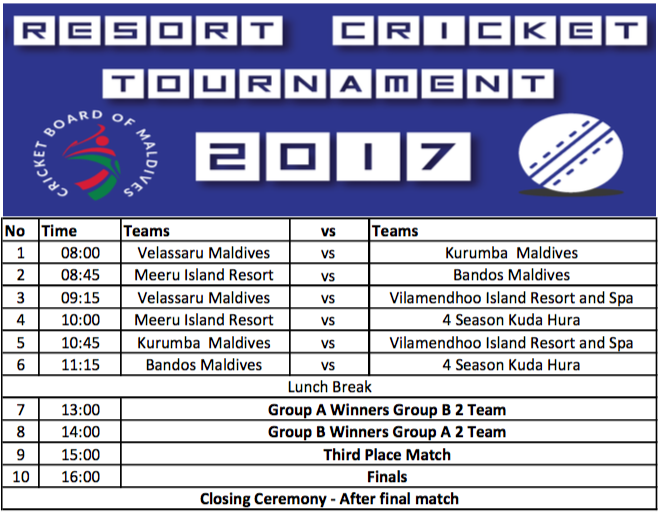 Last years Champions 'Kurumba' and Runners-up 'Four Seasons Kuda Huraa' were two of the many teams that battled it out in 2016.
CHAMPIONS PRIZE MONEY $1000
Various awards for: Most runs scored, most wickets taken, 'Ht & Win', 'Catch & Win', Most Valuable Player, and others.
Entry fee is $500 per team. Teams can participate from any Resort within the Maldives and players of each team must be registered employees of that resort.
If your team would like to play in 2018, register your interest by downloading and completing the Team Registration Form here either in excel or .pdf format and return to rizan@maldivescricket.org.
For further information please contact Ibrahim Rizan on 9676758